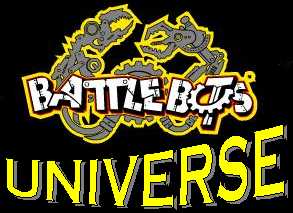 Back to the Homepage
---

Lightweight Rumbles -
Herr Gepounden won with 70%, Sumblime received 16%.
Fang squeezed by with 48%, Shish Ka Bot & Shrike combined for 41%.
Whirligig advanced with 64%.
Crusher receieved 77% in his win.
Mouser Mecha Catbot won with 61%, Sallad was behind with 25%
Trilobot advances with 56%, Snow Flake received 33%
Gamma Raptor captures 76% of the vote while Skid Mark got the rest of the votes.


---
Middleweight Rumbles - Championship
T-Minus wins with 40%. The other votes were: Hazard 25%, Complete Control, SABotage & El Diablo each with 10%, Sunshine Lollibot with 5% and poor little Deadblow didn't receive any votes.

Lightweight Rumbles -
Death By Monkeys had a tough time with only 47%. Evil Fish Tank, Missing Link and Rhode Hog giving him some troubles.
Defiant showed he still has it by narrowly advancing past Widow Maker by 2 votes.
The other eumbles weren't as close
Wedge of Doom with 89%
Ziggo with 88%
Dr. Inferno Jr. with 85%


---
Middleweight Rumbles - Semi-Finals
Rumble #1 - T-Minus with 47% and Complete Control with 34% advance along with Deadblow and El Diablo who both tied for third with a mere 6%.
Rumble #2 - Hazard with 41% and SABotage with 36% pulled away into the championship round along with Sunshine Lollibot who egded out Son of Smashy for the final spot.

Lightweight Rumbles -
Backlash with 79% easily won his rumble.
Toe Crusher edged past Carnage Raptor.
The Crusher had a tough time against Blood Moon, winning by just 4 votes.
In an even closer rumble, Afterthought edged passed HammerHead by 2 votes.


---
Middleweight Rumbles -
Little Drummer Boy = 97% (Village Idiot got one vote which kept LDB from getting 100%)
The Master = 84% (Zion got the other 12%)
Pack Raptos = 58% (A close group with Huggy Bear, Ice Cube, Pressure Drop and Thwak all getting votes)
SABotage = 84%
Son of Smashy = 87%
Sunshine Lollibot = 60% (Had a tough time against Turbo)


---
Heavyweight Championship - Biohazard Wins! He won with 46% of the vote, his closest rival was Mauler 51-50 with 28%.

Middleweight Rumbles -
Complete Control = 86% (Former Middleweight champion Spaz got 10%)
T-Minus = 96% (Double Agent got the only other vote)
Deadblow = 88%
El Diablo = 71% (Subject to Change without Reason got 28%)
F5 = 72%
Hazard = 76% (Ersaer did good agaist the two time champion by getting 11%)


---
Heavyweight Semifinals - In the first group Biohazard pulled away and will be joined by Tazbot and Mauler 51-50 who also qualified from this group. In the other semi-final, Vlad the Imapler and Son of Whyachi qualified along with MechaVore who narrowly got passed Nightmare and Voltronic. Poor Overkill didn't get any points.

Middleweight Rumbles - Ankle Biter advances past The Alabama Slammer; Bad Attitude advanced with 71%, Bumber Bawt got all the other votes in the group; Blade Runner had an easy time with T-Wrex; and Knee Breaker sqeaked passed Twin Paradox.


---
Overkill had the closest fight with Frostbite, winning with 54% of the votes but the other rumbles were a piece of cake for the victors.
MechaVore with 72%
Nightmare with 86%
Son of Whyachi with 76%
Vlad the Impaler with 71%
Voltronic with 85%


---
Hexadecimator advances with 68%. He is joined by Killerhurtz who squeezed passed Little Siseter and Mauler easily went through his rumble to win. They win join Biohazard, FrenZy & Tazbot in the semi-final but first, this week is who will make up the other semi-final.


---
Toro is SuperHeavyweight Rumble Champion!!! - In the Heavyweight rumbles Biohazard easily advanced with 100 percent of the votes in his rumble while FrenZy overcame a close fight with Battlerat to win and Tazbot rounded out the bots advancing to the HW Semi-Final Rumble.


---
SHW Rumble #1 - Minion edged out Atomic Wedgie by just 7 votes! Atomic Wedgie may have beat Minion in Season 2.0 by Minion's new fly wheel as made him the better bot.
SHW Rumble #2 - Dreadnought won it easily with over half the votes this dispit losing is first and only match at Treasure Island. The great preformance he had against Chin-killa as made him a bot to watch.
SHW Rumble #3 - Diesector got 63% of the vote. His nearest challenger Whyachi got 30%.
SHW Rumble #4 - Rammstein advanced with 52%. World Peace was next closest with 25%.
SHW Rumble #5 - Anubis wins with 38%. Ginsu, Rhino & Ronin each had 19%.
SHW Rumble #6 - A Tie!! CUAD the crusher & The Swarm both advanced with 35%
SHW Rumble #7 - The Judge wins easily with 57%
SHW Rumble #8 - Toro gets an amazing 80%


---