Back to the Homepage
---
NEWS
New RC Battlebots coming soon. They don't look entirely like their real life conterparts but they are remote controlled, have working weapons and at only $25 dollars might be fun to have.
Robots Below: El Diablo; Killerhurtz; Minion; & Vlad the Impaler. They also have DooAll and Turbo (not pictured).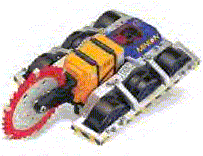 A sneak peek at the Biohazard Remote Controlled toy coming out soon by Tiger Electronics. There will also be a Diesector, TAzbot & Deadblow and will sell for about $50 each.




Interactive Toys are coming out with 50! Battlebots (Bots from Season 1.0 and 2.0) as part of their minibot line. Due out this Fall.


---
Battlebot Toys are made by Jakks Pacific as part of their Road Champs Line. There are Battle Bashers that have push forward action that explode on impact; Grip N' Grapplers that are connected to a controller with a trigger that activates the bot's weapon; A replica of the battlebox for either the Bashers or Grapplers; Battle Chains to hook to your keys or backpack with working weapon when you pull the chain; Metal Mechanics, robots that you build and have battery operated weapons; and Spinbots, spinning tops that come in their own arena.

I've scanned the instructions for the bots that I have. I scanned them actual size so you can read the words so they may be slow to load on some computers. If you have instructions or pictures for one I don't have please feel free to send them to me.
---

View & Print the Checklist


---